Work Pics 360 vs Other Google Trusted Photographers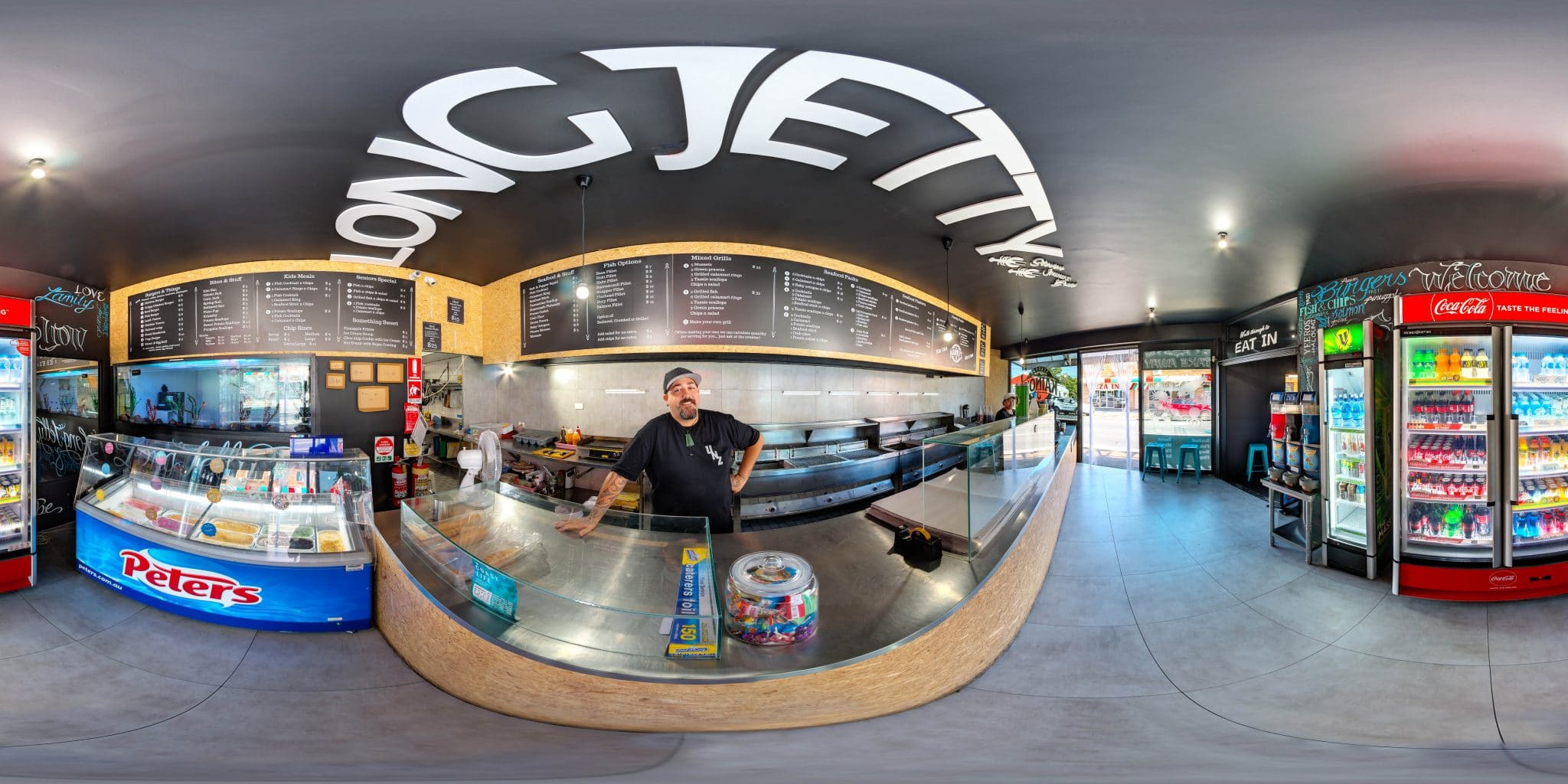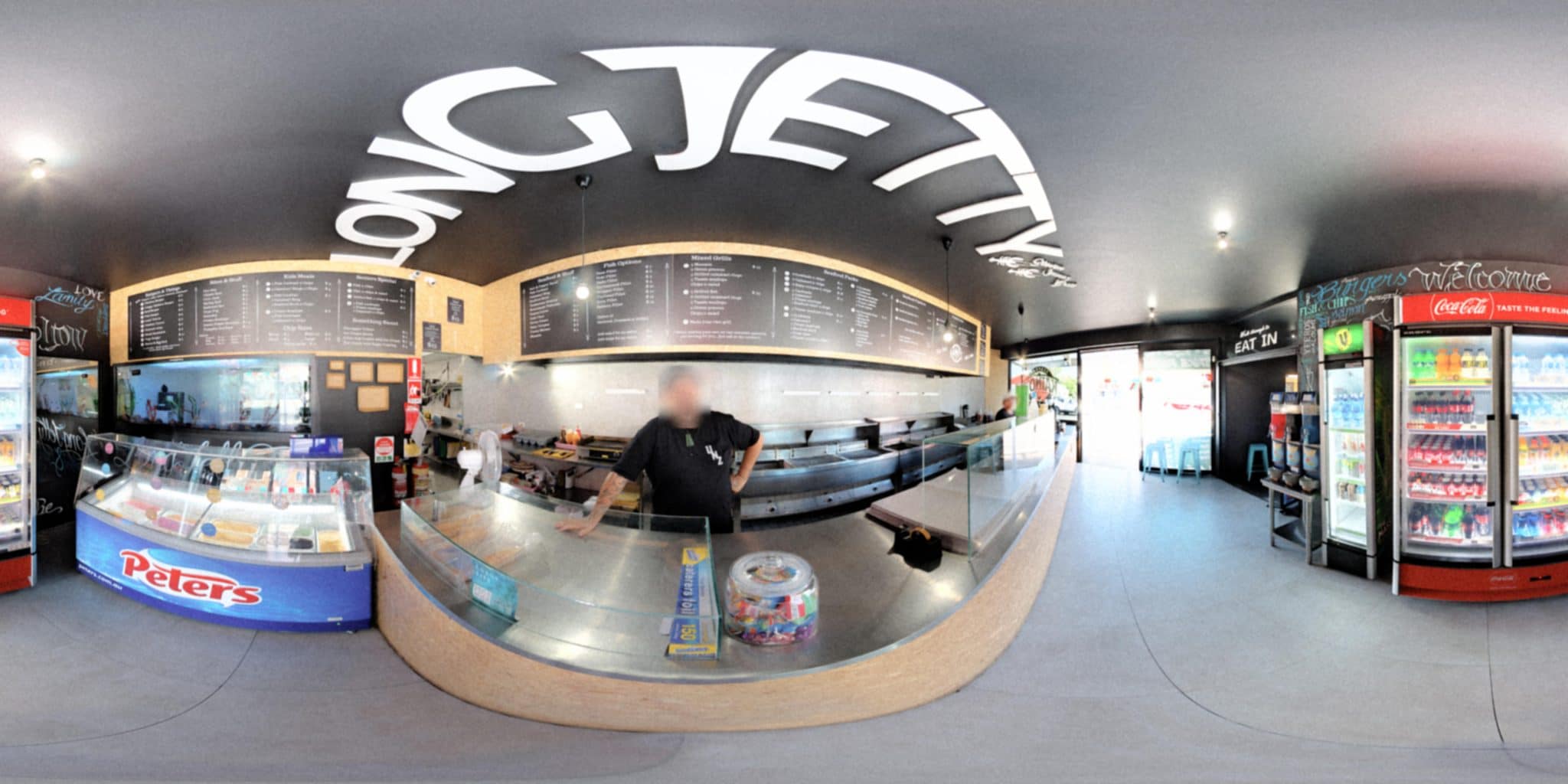 ↑↑  Move the slider above to compare the image for quality and face blurring ↑↑
Better Quality and People Not Blurred
I often get asked what's the difference that I bring to virtual tour photography as a Google Street View Trusted Photographer.
Generally speaking, if the images are shot in exactly the same way with equivalent quality equipment, you'd think you get the same result, right? Well, maybe, but not always.
About the Compare slider above
I have recreated what would be a typical image shot by most 'One Shot' 360 cameras (consumer cameras that a lot of Google Trusted photographers use for creating virtual tours, such as the Ricoh Theta V or MiSphere 360) vs what a virtual tour image should look like. Note that for simplicity's sake, I have kept the images as a flat, non 360 images and resized them to the 23.8 megapixels so that it doesn't take too long to load. This sample was shot recently in Long Jetty at a small restaurant called Kaino's Seafood and Burgers
Ricoh Theta image size: 15 Megapixels
Mi Sphere 360 image size: 23.8 Megapixels
Work Pics 360 current standard: 75 Megapixels (This is the same image as above but as published live on Google Street View)
Face Blurring? Why?
The other thing you'll get with Work Pics 360, and this may sound a bit surprising, is the ability to have peopled in the images regularly with faces visible, not blurred.
So why is that so unusual?
It's partly a left-over issue that Google had insisted upon in the early days of Google Street View to help protect people's privacy. Of course, the aim to respect privacy has not changed. In many respects, this is an even more important issue. But when it comes to photography to show off your business, would you not agree that seeing people happy and looking authentic and natural looks better?
The way I solve this is simple. I get permission from people to include them in the virtual tour and offer a blanket model release form so that it is clear that their image and/or likeness will be displayed in this photo shoot.
Of course, not everyone wants their photo to be taken and that's completely fine. There's no pressure to be in the shot. But if willing, I strongly feel that it adds an element of likeability and authenticity.
Quality takes more time, skill and effort
It is far more challenging to include people in 360° photos than standard photography. In 360°, I have to deal with extremely large variations in light in a single image every time that there are indoor and outdoor visible areas in the shot. That means, using a special photographic technique called HDR (high dynamic range) blending whereby multiple images shot to capture both dark and bright areas can be blended together so that the image looks far closer to what the human eye can see.
HDR photography is most definitely not normally suited to shooting images of people or things that are likely to move. If they do move, it will look ghosted and blurry. My technique to include people is simple and effective and helps solve this challenge for 360° photos used in virtual tours.
Quality 360° Photos Impact Perception and Conversions
So if you ever are approached about having a virtual tour shot and you want your staff, team or willing clients (with model releases of course) in the shot, ask if the images will have unblurred people in them, and remember this comparison.
Don't let people have the wrong perception of your business. Ask the photographer about quality standards and to see their portfolio.  Happy people, authenticly experiencing and interacting with your business will ultimately give you better conversions.